Walk out, do you good. You go to neighbours.
You do all your work. I glad I found you so comfortable.
I glad I found you so smart. I shall tell I found you well.
I suppose you no courage to do anything.
Put up swing on trees & swing, do you good.
Go south, do you good. Go to campground, do you good.
Take air, do you good. Take my horse & gallop it about.
Take cloth off your head, that is all that ails you.
Eat bread, eat meat, you be well.
Come go out with me or I won't come again. Come ride with me.
You keep your house clean, you do it yourself.
You make lath building yourself. You make butter yourself.
You stick your bean poles yourself.
Take fresh air, do you good.
You go to cattle show. You you must come & see me.
You pretty smart. Ride out.
You pretty well. Come down to Edgartown.
You been pretty smart since I saw you last.
I shall tell Dr. when I see him, I found you well.
Unbelievers
Nancy Luce
Nancy Luce was a lone homesteading woman, who had a hard time with humanity- but loved her chickens and her cow dearly. Her life, her journals, and her strange and amazing chicken names like Tweedle Dedel Bebbe Pinky and Ada Queetie are a joy!
It's been a beautiful winter. It was a magical fall.
I am settling into my dream barn studio, and feeling lucky.
I'm learning how to let things take time.
Weaving is the best teacher for that.
I started a weaving business with the intention of slowing down; to offer an alternative to quick commerce and disposable lifestyles. And while weaving, and all handcrafts, are rooted in a slow and thoughtful practice- my life and business have been a whirlwind with little time to rest. So far, my first few months working at our farm have fostered an integrated and peaceful relationship to my work.
I find myself often wondering how handweaving a farm to finish production line fits in to our world. What is the benefit of the story I'm trying to tell through my lifestyle choices? I feel committed to carrying on this tradition that was once essential and revolutionary- but what is the true and necessary evolution of this weaving lineage?
I am not a re-enactor, I'm a modern farmer and modern weaver.
I seek to find a more precise, articulate and practical way to define what I am doing so I can best serve my dreams as a farmer and weaver in their fullness and complexities.
What is the home for the past?
Where does it live and belong?
How does it march on into the future?
How can I honor my weaving lineage, and keep it alive and vital today?
---
I still find that my life has been breathing with the seasons- the solstice and equinox continue to be distinct markers for me. It has been a heartening connection to feel like I too am moving the way the earth moves, and my struggles and excitement have seasonal counterparts. It makes me feel like I'm doing the right thing.
from
Gathered in Time: Utah Quilts and Their Makers, Settlement to 1950
by Kae Covington; University of Utah Press (1997)
This summer's solstice brought the harvest of our wonder barn (and A Little Weather's new studio!), Redbud and Clover (our mama and baby cow), and 12 gentle sheep into our lives and freshly fenced pasture. New looms, new designs, new weaving wonders and big questions.
And so much more than I can even account for...huge moons and fresh peas and calendula flowers and tiny nests of chirpers!
One more shout out to our beauty of a barn- the huge project of the year (the Snake Church we're callin' it)- and after I lay the floors I'll be moving my studio home! (sorry i don't have a photo of the finished beaut'...) Holy smokes, I can't wait to weave with the windows wide open and my funny little family grazing in the pastures beyond.
There are so many things I want to share about my process this past year...
I want to find a humble and concise way to discuss a whole host of topics.
-The beauty and support I feel by my neighbors and the sparkling gritty place where I live.
-The difficulty of expanding a line of products.
-The difficulty of making a product at all.
-How to reconcile the internet and social media with the life I want to live...(!!?!!???)
-How beautiful and important truly hard work is- and the amazing moments when we realize we aren't doing it alone.
-What it means to make a home. And what it means to be making a home in this time on this planet.
and that's just the tip of it...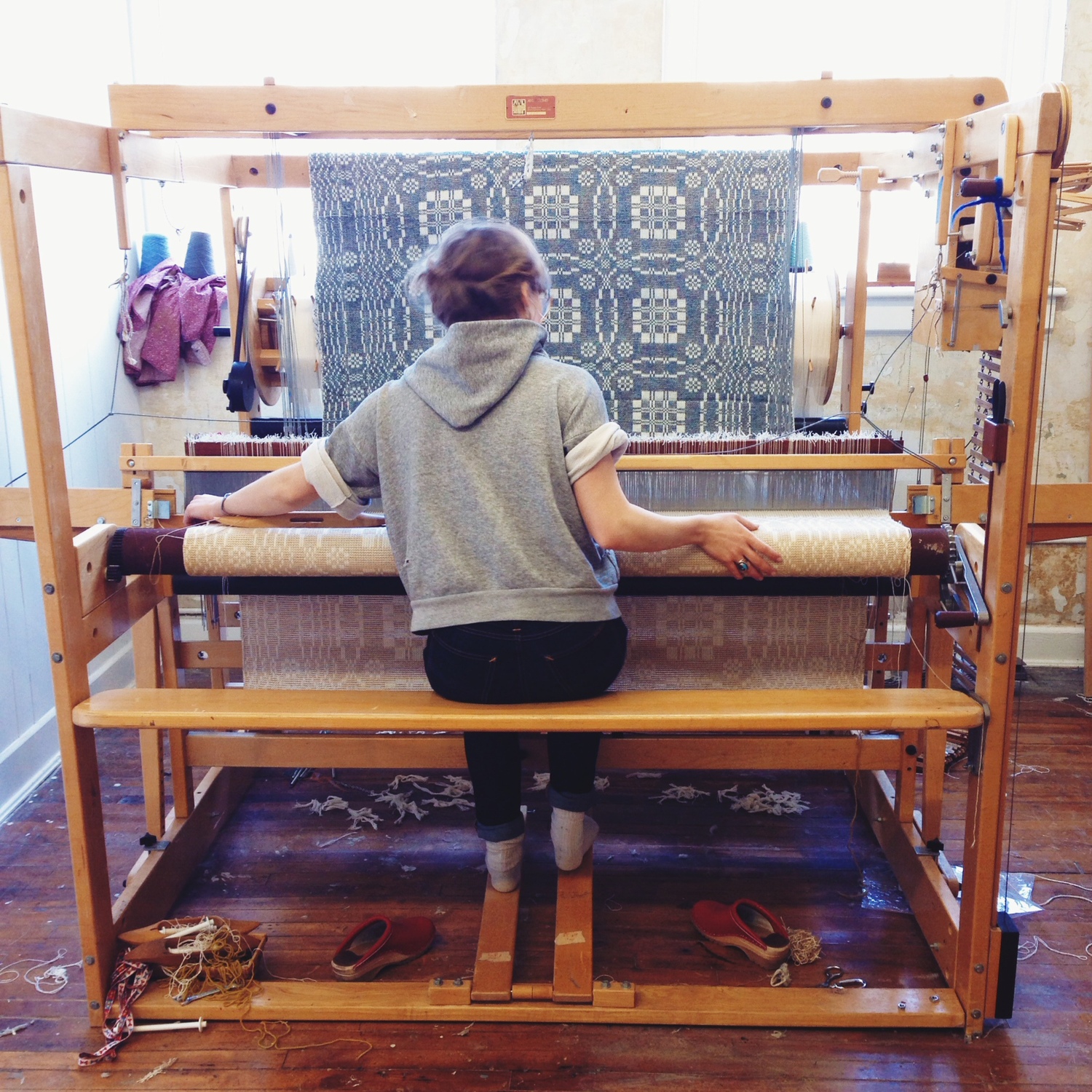 There is still a long road to hoe, but I feel we are facing it mostly undaunted. My dear friend and fellow weaver, Alex, helps me to draw the future in big maps on butcher paper, and keeps her loom clacking right next to mine even on the hard days, and is just as excited to pick a million mullberries for putting up jam as I am. And Daniel, my sweetheart, is the hardest worker I have ever known, climbing trees and saving hemlocks by day then is out building fence with his headlamp on with the fireflies. I feel like I have these two beautiful hand woven hammocks on either side of my life- as I bounce and flail between the two who are always ready to rock me.
our soft and sweet organic cotton
Summer Blankets
!
the perfect accompaniment for adventures and wold wonder.
I told a friend yesterday, "in 500 days, I will rest" and I meant it.
It feels good and generous to think that, next years harvest will come and go, we won't be starting fresh anymore, and we can settle into the winter of 2015 with cosy blankets around our shoulders and fresh milk warm and white, and then we'll be ready to rest.
And finally, I'd like to announce a new project that will be sent by mail.
News From the Snake Church could be available in a mailbox near you!
News From the Snake Church aims to be a quarterly newsletter that thoughtfully comments on modern day "homesteading" (as we seek to find a more appropriate word) and the joys and struggles of making useful things with our hands and hearts. There will be recipes, interviews, sweet nothings, and a bit of serious discourse. Let me tell you, it's gonna be swell!
Just fill out this
little form
- and come the e'er approaching autumnal equinox you'll be regaled by the words and wonder plunked out letter by letter onto hold-it-in-your-hands-made-from-the-trees-paper and sent straight to you.
Warm sweet happy summer to you all!
I hope you find time to soak your bones in fresh bodies of water (and maybe get to scamper around with some sparklers once or twice).